Greg Bright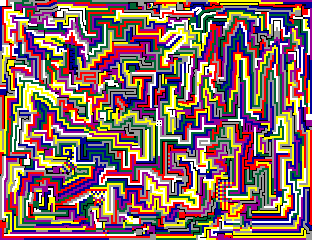 Colour Maze
Greg Bright was born in Wales in 1951 and has periodically been making mazes ever since. In 1971, he acquired a field near Glastonbury and spent one year digging a complex maze of earth trenches employing several innovatory routing systems. In 1975, he laid out a huge hedge maze at Longleat for Lord Weymouth.
His books have sold in tens of thousands world-wide and include:
Greg Bright's Maze Book (Latimer)
Greg Bright's Fontana Mazes (Fontana)
Visual Music (Latimer)
The First Colour Maze was begun in 1971 when rain confined Greg Bright to his tent. It eventually became a 280 square foot exhibit at the Institute of Contemporary Arts, but contained an irreparable error and was unsolveable. The Second Colour Maze which is now reproduced stems from this experience.
"He is an immensely skilful maze maker ... the most intricate mazes now being made in the world and certainly designed ... are by Greg Bright."
Michael Ayrton 10 October 1975
Copyright (c) by Greg Bright.
Published by Boamglade 1976 All rights reserved
Printed in Great Britain by William Hand Ltd.
Packaging Designed by Paul Douglas Nassour
*
Rules
This Colour Maze has been devised as a challenge for the most particular of puzzlers. With the Maze spread out and flat in front of you, you will see a series of numbers and letters round the edge. This is a reference grid which enables you to pinpoint progress, keep notes and generally read the Maze like a map.
To solve the Maze, begin at the marked white box (G 5) and explore along white paths only. When you enter a box you may travel on that colour also; (The path must touch part of the box). For example, entering the mauve box with white means that you may now travel along all accessible white and mauve paths. Transferring from one permitted colour to another can be either endways or sideways so long as you limit yourself to the permitted colours.
Enter a third box, and you have three coloured paths available. This is the maximum. It is on entering the fourth box that the mechanism of the maze really begins. From now on you must reject one colour, limiting yourself to three colour paths at any one time.
For example, having passed throught white, mauve and green boxes if you then enter the grey box you may exit with any combination of three of the four colours. Each combination (though some combinations are more fruitful than others) will allow you to explore further to find another box, change your combination and continue. The destination is the multi-coloured box at G 10. (N.B. You will probably find it necessary to make notes).
*
(last modification 1999-04-03)